Kappa Alpha Theta wishes our 25-, 50-, and 75-year members a very happy anniversary! This year, we will recognize 3,540 25-year members, 2,058 50-year members, and 456 75-year members. All 25-year members will receive a certificate, and both our 50- and 75-year members will receive a beautiful pansy pin.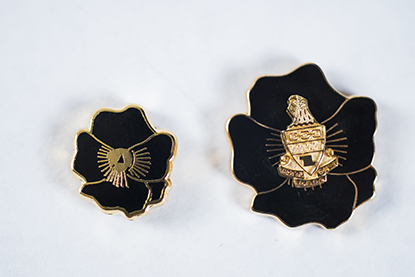 We're incredibly honored to celebrate the women who have been Theta sisters since 1945! This year, about 50 of our 75-year members will be visited by Theta neighbors, volunteers, or staff for an in-person presentation of their pansy pins. The Spring 2020 issue of the Kappa Alpha Theta Magazine will feature photos and stories from these visits.
Congratulations to all our members celebrating a milestone anniversary in 2020! We hope these pins, certificates, and visits invoke many wonderful Theta memories and inspire you to create many more.