Harvard Sanctions Hurt Students and Diminish Harvard
05/24/2018
Today, the Commencement edition of the Harvard Crimson published this advertisement denouncing sanctions placed on students for joining and/or affiliating with groups. Note that this page was paid for by members of the Cambridge Coalition on behalf of concerned students, faculty, alumnae and alumni throughout the Harvard community.

---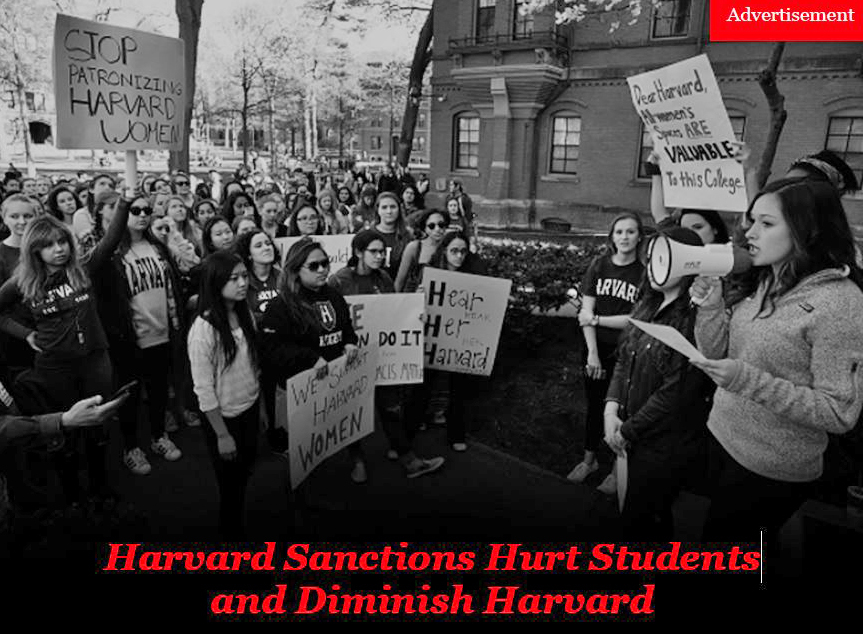 Given the stated mission of Harvard University "to educate the citizens and citizen-leaders for our society" Harvard has a duty to uphold and model the freedoms that define our society, including freedom of association as embodied in the First Amendment of the United States Constitution and applicable law.

Harvard should not discipline, penalize, or otherwise sanction students for their personal decisions to join, or affiliate with, any lawful organization, political party, or social group.
Therefore, the Harvard Corporation and President-Elect Bacow should rescind a policy of adverse action antithetical to the education of future citizens and citizen-leaders of a free society.
What are the "Harvard Sanctions"?
In December, the Harvard Corporation voted to adopt a policy of penalizing undergraduates—but not graduate students, staff, faculty members, administrators, or members of the Harvard Corporation—who join certain independent, off-campus, social organizations, including those that are single-gender.
This same vote strips student-athletes and members of recognized student organizations of the right to elect leaders of their choosing, as well as faculty members of the right to recommend the most qualified students for post-graduate fellowships and scholarships influenced or controlled by Harvard.
Finally, the Corporation has stripped Harvard undergraduates of the ability to exercise without threat of punishment their freedom of association off-campus, on their own time, in ways that do not violate any laws.
Under the new policy, administrators will now deny members of unrecognized social organizations, including single-gender, the opportunities they have earned in the classroom and on the playing field, although Harvard will continue to benefit from their efforts and abilities.