Over the summer, I had the opportunity to attend the 2022 Kappa Alpha Theta Emerging Leaders Institute (ELI) and represent my chapter through various leadership workshops and discussions. Through the Institute, I grew as a student, leader, sister, and person by learning the importance of leading courageously, leveraging my strengths, and promoting an inclusive environment for our chapters and communities to thrive within.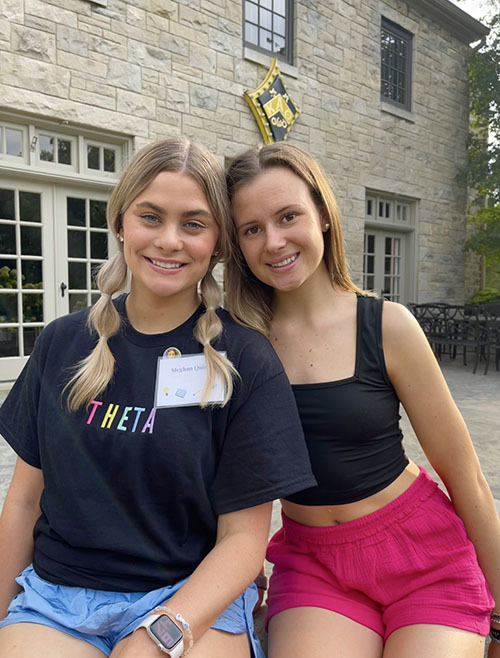 ELI challenged me to run for another term on the Panhellenic Executive Board on my campus. Before attending, I was conflicted about whether going through another election process would be the right decision for me, but after attending programming sessions about being and implementing the change you want to see within your chapter, community, and campus, I felt inspired to run again.
Leading courageously does not mean you lead without fear; rather, this fear does not hold you back or prevent you from taking risks and being bold. During one of our sessions, we participated in an activity that focused on asking the question, "What would you do if you were not afraid?" This question shifted my entire mindset about serving in a leadership position. You do not need a position or title within your chapter or organization to be a leader. Anyone can make a difference by being the change they want to see; they must only push against fear and try.
One of my favorite activities from ELI was taking the CliftonStrengths assessment and analyzing our results together. Our strengths make us unique as leaders and can have a massive influence on how we lead as an individual and how we work in group settings. Before we debriefed, I looked at my top strength—Competition—with a negative impression, thinking it meant I always have to be competing against someone to win or effectively utilize this strength. This session worked to flip the negative connotations with our strengths and taught us how we can leverage and strengthen them to our advantage. This switch helped me understand that working and competing with others rather than against others creates a greater and more positive impact.
ELI ignited a passion in me to empower others, serve and give back to my community, and learn and grow as an individual, sister, and leader. Relating leadership today to Theta's founding history inspires me to embody the courage of our four founders and truly embody our core values. Without attending the Institute, I would not be serving as the vice president for recruitment on the Panhellenic Executive Board at Pennsylvania State University, sitting on committees within my chapter, and challenging myself to achieve goals I once saw as unachievable.