During my first meeting with the members of Themis Arsteri—the local group that persisted when Zeta Xi Chapter closed as a result of Harvard's sanctions against single-gender organizations—the officers confidently agreed that their top priority through reaffiliation was to rediscover the strong bonds that Kappa Alpha Theta fosters.

While working with the now-pledged members of Zeta Xi Chapter, it has become abundantly clear that the spirit of Theta has been alive and well while Theta was formally absent from Harvard College. With the guidance of headquarters staff, Zeta Xi officers planned and executed an incredibly successful recruitment, reaching almost 200 potential new members and inviting 65 to join. Collegiate services staff collaborated with the members to plan an exciting bid day and the members recently held their annual CRUSH semi-formal event.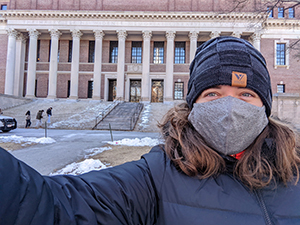 I feel so inspired by the members of Zeta Xi Chapter. I have had countless energizing sessions with officers where we discover the root cause of challenges and brainstorm creative ideas to facilitate positive change, both internally and externally. I have helped facilitate meaningful chapter and member education meetings where members make new connections with their fellow Thetas to continue building trust and belonging in their community. I have also seen the students advocate for causes that matter to them; uplift and support each other through challenging problems; thrive in their academic and career pursuits; and work diligently to rebuild Zeta Xi Chapter in an inclusive, welcoming, and powerful way.
With initiation and installation on the horizon, the members of Zeta Xi are looking forward to gaining support from advisors, planning an overnight retreat for fall 2022, creating leadership opportunities through Theta's committees, and engaging with Theta's local and global alumnae networks. The Zeta Xi Chapter is truly something special, and we are all so excited to witness this chapter's continued success.