September 2018 Archives News
09/06/2018
I don't know about you, but September puts me in mind of frosty mornings, apples, and the leaves starting to change. The month also makes me think of new beginnings.
We are still wrapping up from convention and if you have not already, please read the blog post by this year's archives intern, Elyse Haskell, Alpha/DePauw, about her experiences at Grand Convention 2018. We wish her luck on her semester abroad!
One of the things that strikes me when I look through the many images and items in the archives is the timelessness of the Theta experience. In honor of the Year of Sisterhood, take a few minutes to check out the recent Ask the Archivist page from the Summer 2018 Theta Magazine. Featuring two images taken 112 years apart, you see that the bonds of friendship between members have not changed.
If you need content for an upcoming meeting or activity, remember you can search or scroll through the Heritage blogs or past Ask the Archive articles to find something to share or generate conversation about how things have changed or remained the same throughout Theta's history.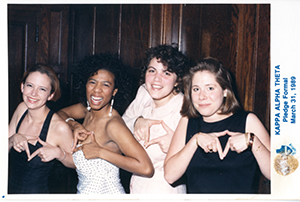 As I write this, my weather app says it is 90 degrees, so I don't think we will have frosty mornings any time soon. But September does mean new beginnings: the beginning of a new school year, a new round of alumnae chapter events, and—most importantly—new members. I send a welcome to our newest sisters, and to the rest, I hope you are off to a good start.