What's New on the Heritage Site, June 2018
06/07/2018
It is busy around the archives these days. First, Elyse Haskell, Alpha/DePauw, has joined me as the summer intern. She will be part of the Convention staff in Orlando in a few weeks.
Speaking of Convention, Elyse and I are busy working on the exhibits – yes, plural - that will be at the 2018 Grand Convention. I am excited that we'll be taking a traveling version of the Bettie and Her Family exhibit (a video tour is available here), with images and reproductions of some of the documents that were on display here at headquarters.
If you have not visited the new Theta website, I encourage you do so. The debut of our new website gave me the opportunity to look back at the history of Theta on the web , beginning with Theta's first website in autumn 1996. That's right, the archives also preserves the digital history of Theta.
This blog post and other Theta heritage-related blog posts have a new home on the revised Theta website alongside other Theta blog posts. You can read the most current blogs and also search content from previous posts. There's a lot of history contained in those blog posts. Remember to return to the heritage site for more on Theta's history.
A new addition to the heritage site is the recent Ask the Archivist article from the Spring 2018 magazine in which I explore the history of Theta alumnae groups. 2018 marks the 125th anniversary of the founding of Theta's first alumnae chapter, Alpha Alumnae Chapter in Greencastle, Indiana. (Early alumnae chapters, like college chapters, had Greek names.)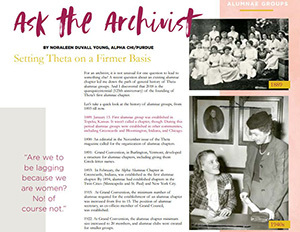 As always, I encourage you to explore the heritage site and learn more about Theta's history.