The Los Angeles Alumnae Chapter celebrated Founders Day by partnering with the organization People Assisting the Homeless (PATH). This group is dedicated to ending homelessness throughout the state of California. One of our own alumnae chapter members - Claire Sorrells Orr, Tau/Northwestern - founded PATH over 35 years ago with a $500 check from her church. PATH has grown to place more than 9,000 homeless people in permanent housing and has opened 1,500 permanent housing units across California.
PATH was opening a new homesite to house 60 individuals, mostly veterans and/or those with serious health conditions. The site needed supplies for Welcome Home Kits. These kits include everything someone might need to start out in a new home: kitchen and bathroom items, bedroom and bathroom linens, cleaning supplies, and pantry staples.
Our chapter received the Alumnae Chapter Founders Award at Grand Convention 2020, which came with the opportunity to apply for designated Theta Foundation grant funding. With the grant from Theta Foundation, as well as donations of funds and supplies from our members, we were able to donate five full Welcome Home Kits, enabling those soon-to-be housed people to focus their attention and resources on true necessities like their new mortgage, utilities, and food rather than living supplies.
For Theta's Day of Service, we gathered on a sunny weekend morning in the new homesite's courtyard to learn about PATH's impact on the community. Working together, we unboxed and sorted supplies, then assembled and delivered ten complete Welcome Home Kits. We even included notes of congratulations in the kits to make the new homeowners feel welcomed. The homesite's units were set to open for their new owners in a week and it was important to us that they felt at home on that first day.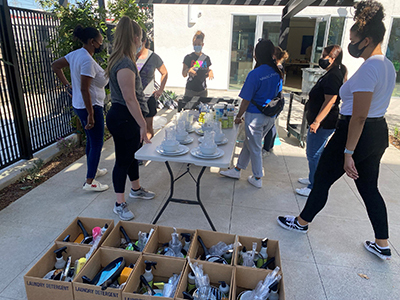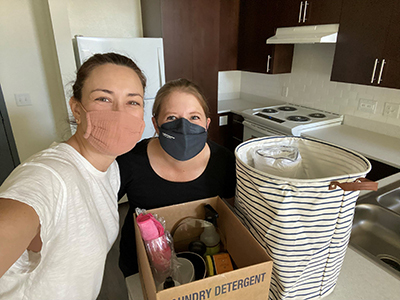 While the day was about giving back, we left feeling grateful for the opportunity to reconnect with one another as members. This was one of our first in-person events since Founders Day 2020, and it felt good to see familiar smiling eyes, meet new sisters, and share the day in the spirit of our founding members.
The deadline to apply for a Theta Foundation grant for programs beginning on or after March 1, 2022, is Jan. 12. Learn more about the grant application and how to apply.