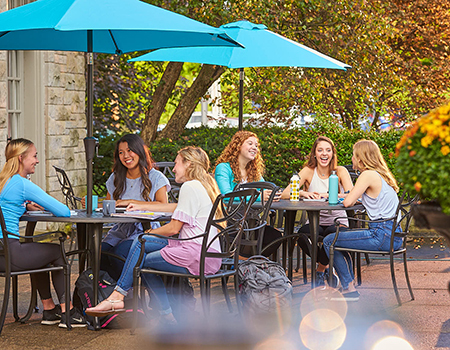 Grants
Theta Foundation stands as a pillar of support for Thetas and a partner in the Fraternity's educational and philanthropic efforts. Through our grants to members, chapters, the Fraternity, and the causes close to Thetas' hearts, Theta Foundation enriches Kappa Alpha Theta's legacy of promoting the widest influence for good and supporting opportunities that foster personal excellence.
Foundation Grants
Chapter & Individual Grants
Theta Foundation is proud to support Theta chapters and members with grant funding to participate in non-degree programs that help build the skills necessary to promote the widest influence for good and make a real, positive difference in the lives of members and non-members alike.
Fraternity Grant
Theta Foundation believes in the opportunities Kappa Alpha Theta offers each of its members, which is why our annual grant to the Fraternity for educational, leadership, and charitable programming is one of our highest priorities. These programs not only have the potential to reach every member of the Fraternity, but they also have the potential to reach well beyond Theta.
Philanthropic Grants
We widen Kappa Alpha Theta's influence for good by awarding annual grants to the causes that have captured Thetas' hearts: the National Court Appointed Special Advocate/Guardian ad Litem (CASA/GAL) Association for Children, Heartspring, DePauw University Libraries, and the NPC and FFE Foundations.
Apply for Chapter & Individual Grants
Visit the Apply for Scholarships & Grants page to access the grant applications and review the application guides, which include complete information on important dates and deadlines, application requirements, and applicant and recipient expectations.
Interested candidates are also encouraged to review the list of Frequently Asked Questions and answers for more information.

A-Z Grant Listing
Theta Foundation's grants are made possible by donors who have established or contributed to our Named Grant Endowment Funds.
See the List
Chapter & Individual Grant FAQs
Interested candidates are encouraged to review the FAQ for answers and more information.
Read Our FAQ
Recent Chapter & Individual Grant Recipients
326 Theta members and four chapters received over $850,000 in grant and scholarship funding last year! We invite you to join us in applauding these recipients on their accomplishments.

Learn More
Fraternity Grant
Theta Foundation takes pride and believes in the possibility and opportunities Kappa Alpha Theta offers each member, which is why our annual grant to the Fraternity for educational, leadership, and charitable programming is one of our highest priorities. These programs not only have the potential to reach every member of the Fraternity, but they also have the potential to reach well beyond Theta.
Kappa Alpha Theta is offering this leadership preparation program for recent graduates (1-5 years post-graduation) who are also volunteering as college chapter advisors. The program includes 32 participants and is facilitated in a cohort model, with small group meetings once a month on topics such as coaching, mental health, diversity, equity, and inclusion, giving and receiving feedback, and change management. Through this program, Theta hopes to develop prepared college chapter advisors and future leaders.
Due to the uncertain nature of college campuses this year, it was clear there was a need to shift alcohol education to a virtual format as opposed to in-person facilitation. Theta is adapting to current circumstances by implementing a Personalized Normative Feedback (PNF) program. Most college students overestimate how much their peers are using alcohol. A confidential web-based survey assessing alcohol behavior will be used to determine the norm among undergraduate Theta members. All participants will receive personalized feedback to educate them and correct their perceived norms of alcohol-related behavior while increasing their interest in critically examining their own drinking patterns.
Documenting Theta history within broader social and historical contexts, the Fraternity's archival collection enriches the study of women's history through its exploration of the culture and values of college women and college-educated women. Theta Foundation grant funding supports the staff archivist's efforts to bring awareness to the general public about the Fraternity's collection through membership in professional organizations and associations, including the Society of American Archivists, the American Association of State and Local History (AASLH), and the Indiana Historical Society (IHS).
Programming for college chapter officers will provide leadership education and development to both current and newly elected officers, with the hope of reaching as many students in leadership positions as possible. Using the emotionally intelligent leadership model, curriculum will focus on understanding effective leadership and applying this knowledge to any leadership role. Educational sessions are being facilitated in both large and small group settings virtually.
This program will provide a framework for which to engage in meaningful and impactful conversations around the issues of values alignment, racial inequality, and community growth. Theta will engage staff, volunteers, and college members through this program in order to help our membership feel prepared to tackle the challenging conversations they will undoubtedly encounter. Participants will learn how to engage in open, authentic, and respectful conversations, understand how to take responsibility for their dialogue, and learn techniques to practice expressing their values, and in turn, be open to the possibility of those values being changed because of interactions with others.
Theta plans to host two emerging leaders programs: one for juniors and one for any undergraduate member who considers themselves to be emerging in their leadership identity. All participants will have the opportunity to learn and practice leadership concepts, engage with other students, and access facilitators to support, challenge, and aid in their reflection. All sessions will be virtual. Programming will focus on concepts including Clifton StrengthsFinder, active listening, empathy, conflict management, and inclusive leadership. Similar programming has been proven to result in increased career ambition and decreased hazing tolerance and binge drinking rates for participants.
This programming is meant to provide leadership development and education to all undergraduate members with a focus on new members, seniors, and students attending a school that is completely virtual. According to the Multi-Institutional Study of Leadership, participating in formal leadership programs has positive benefits for college students, including contributing to higher scores in leadership efficacy, which is the ability to believe you will be successful when engaging in leadership. This far-reaching program will help further Theta's organizational learning goals of increasing confidence and critical thinking among members.
Theta Foundation is proud to partner with the Fraternity to provide mental health resources to members, especially during these trying times. This partnership will fund access to the Sisters Supporting Sisters online screening program, which provides a safe, confidential way for members to take a short assessment to determine if their symptoms are consistent with emotional well-being issues. Educational materials guide members to find help should they need it. Mental health training will also be provided to select members this year, including Question, Persuade, Refer (QPR) training. This online program enables members to become gatekeepers for their Theta sisters, training them to recognize the warning signs of a suicide crisis and question, persuade, and refer someone to help.
Theta Foundation will be supporting a portion of the cost of Zoom for Education, allowing the Fraternity to host all of its programming online during this unique year.
Organizational assessment is common among many businesses and higher education institutions to improve outcomes. Access to quality assessment is imperative to the progress of Theta's educational and leadership programs and initiatives. Without it, the Fraternity lacks important information to make necessary decisions about program offerings and curriculum. Theta Foundation is proud to partially support the annual Dyad survey distributed to all undergraduate members which will give the Fraternity actionable data to continue improving upon its programs.
Philanthropic Grants
Theta Foundation widens Kappa Alpha Theta's influence for good by awarding annual grants to the organizations and causes that have captured Thetas' hearts.
Kappa Alpha Theta shares the belief of National CASA/GAL that every abused or neglected child deserves the opportunity to have a safe home, establish permanence, and be provided with the opportunity to thrive. For more than three decades, Thetas have partnered with National CASA/GAL and its state and local programs to give a voice to these children.

Through fundraising millions of dollars, volunteering at local and national levels, and even becoming National CASA/GAL volunteers themselves, Thetas all over the world demonstrate their commitment to the value of National CASA/GAL and the difference National CASA/GAL volunteers make in the lives of our nation's most vulnerable children. Theta Foundation is proud to provide quarterly grants to National CASA/GAL from gifts designated to support this important work.

In June 2019, National CASA/GAL honored Kappa Alpha Theta with their prestigious Children's Champion Award, recognizing an individual or organization who has made a significant contribution at the national level to improving the lives of children who have experienced abuse or neglect. This award has historically been given to a member of Congress but was awarded to Kappa Alpha Theta for our 30 years of steadfast commitment.
Kappa Alpha Theta Foundation has enjoyed a long history of involvement with Heartspring, formerly known as the Institute of Logopedics, located in Wichita, Kansas. The Institute of Logopedics was Theta's national philanthropy for 49 years, until 1989 when National CASA/GAL was adopted.


Heartspring's mission is to be a leader and innovator in providing clinically supported services through education and therapies for children with special needs to empower them to learn and grow on a path to a more independent life. Theta Foundation awards an annual grant to Heartspring through an endowed fund from combined bequests by Marguerite Marshall, Rho/Nebraska, and Martha Wilbur Bowlin, Alpha Iota/Washington-St. Louis.
At a convention meeting of Kappa Alpha Theta in 1922, it was voted to use a funding surplus to establish a book collection at DePauw University as a memorial to the Fraternity's founding of Alpha Chapter at DePauw in 1870. In 1953, Grand President Ellen Bowers Hofstead, Alpha Eta/Vanderbilt, recommended the establishment of an annual grant to DePauw to grow the original book collection. Theta Foundation continues this tradition today with an annual grant to DePauw University Libraries to fund the purchase of books authored by women or related to women's endeavors.
Help Increase Resources for Thetas
Reach out to us with questions regarding Theta Foundation grants.