Trigger Warning: This piece discusses mental health issues and includes a brief mention of suicide in reference to suicide prevention.
As Mental Health Awareness Month comes to an end, Kappa Alpha Theta remains committed to increasing the dialogue around and support for all aspects of mental health. In case you missed it, the Mental Health Resources section of the Theta website recently experienced a refresh. Check out this blog post to learn more! Additional blogs also discussed the concept of managing burnout with Dr. Kate Steiner, taking care of our own wellbeing by Christine Keylian (Beta Mu/Nevada), and some mental health tips from Kailee Sullivan (Beta Delta/Arizona).
In an effort to promote the importance of mental health awareness, education, and advocacy beyond the month of May, we are collaborating with The Jed Foundation (JED) to provide "You Can Help a Friend" and "You can Help a Student" trainings for undergraduate members and alumni and volunteers, respectively. JED is a nonprofit that empowers teens and young adults by building resiliency and life skills, promoting social connectedness, and encouraging help-seeking and help-giving behaviors through nationally recognized programs, digital channels, and partnerships, as well as through the media. Because Kappa Alpha Theta is not a mental healthcare provider, JED is our go-to resource as a leading authority on mental health.
The first "You Can Help a Friend" training session will be offered to undergraduate members on Tuesday, June 14 from 12:00 p.m. to 1:30 p.m. EDT. Plan to take a break from your summer routine and join us for an important dialogue around mental health.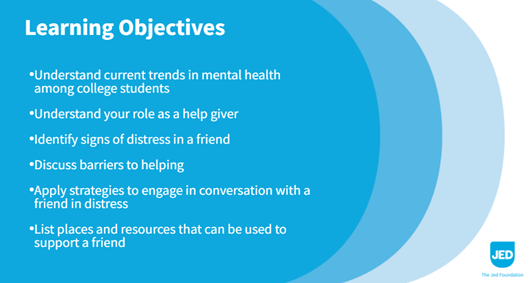 Be on the lookout for communication related to these all-member training opportunities throughout the summer and fall 2022 semester. In the meantime, check out these easy-to-use guides from JED on how to ask for and offer help:
As always, we encourage you to check out the Mental Health Resources section of the Theta website to educate yourself and those around you on the importance of prioritizing mental health.