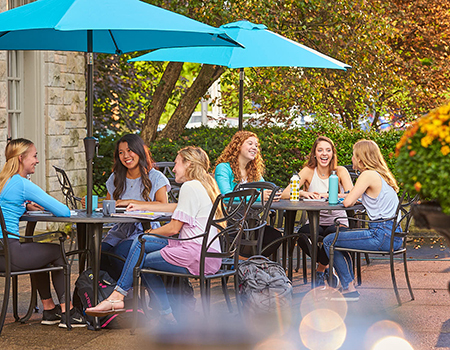 Scholarships
Each year Kappa Alpha Theta Foundation supports hundreds of women, providing more than $800,000 in scholarships to make academic dreams a reality. Theta Foundation's minimum scholarship award is $1,000, and each scholarship is made possible by generous donors. Scholarship applications are typically due in March each year and scholarships are awarded each June for use in the upcoming academic year.
Scholarship Application Information
Find complete information about Theta Foundation's annual scholarship application cycle and access application resources.

Eligibility
Initiated members, college and alumnae, of Kappa Alpha Theta in good standing with the Fraternity.
New members may apply but should be initiated by the application deadline.
Applicants who expect to have eligible academic expenses (see below) not funded by other scholarships or grants in the academic year for which they are applying.
In addition to general eligibility guidelines, many scholarships are designated for candidates with certain qualifications. Available scholarships and criteria are outlined in the A-Z Scholarship Listing. Applicants do not have to apply separately for each individual scholarship. Rather, upon submitting the annual scholarship application, applicants will automatically be candidates for any scholarships for which they qualify.
Scholarship Uses
Toward academic expenses, including tuition, books, and course-related fees for undergraduate and graduate degree programs. Theta membership dues are not an eligible expense.
During any term in the academic year for which they are awarded. Unused scholarship dollars must be returned to Theta Foundation and cannot be held by the recipient for future academic study.
Full-time or part-time study.
A-Z Scholarship Listing
Review our scholarships, their criteria, and tentative available award amounts. Scholarship funds are listed in alphabetical order.
SEE THE LIST
Scholarships FAQ
Thank you for your interest in Theta Foundation scholarships! Have questions?
READ OUR FAQ
Recent Scholarship Recipients
In 2020, 308 Theta collegians and alumnae received $869,130 in scholarship funding - the highest amount ever awarded by Theta Foundation. Congratulations to these remarkable women!
LEARN MORE
Founders Memorial Scholarship Recipients
The Founders Memorial Scholarships are awarded to four outstanding junior applicants every year. They are Theta Foundation's most prestigious awards, valued at $12,000 each.
MEET THE RECIPIENTS
Ask Us About Scholarships & Endowed Funds
Have questions about Theta Foundation scholarships or endowed funds?